October 9, 2023 10:12 pm
Leave your thoughts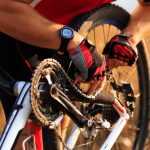 As a cyclist, there's nothing more frustrating than having a mechanical issue with your bicycle while out on a ride. In such situations, having access to a reliable and convenient bicycle repair service can make a world of difference. This is where mobile bicycle repair shops come into play. In this blog post, we will explore the benefits of mobile bicycle repair shops and how they provide a valuable service to cyclists.
1. Convenience and Time-Saving:
The primary benefit of a mobile bicycle repair shop is the convenience it offers to cyclists. Instead of the hassle of loading your bike onto a vehicle and driving it to a brick-and-mortar shop, a mobile repair service comes directly to you. Whether you're at home, work, or on a trail, the repair technician will meet you at your preferred location, saving you precious time and effort. This convenience is especially helpful for individuals with busy schedules or those who are unable to transport their bikes easily.
2. On-Site Repairs and Services:
Mobile bicycle repair shops are equipped to handle a wide range of repairs and services right at the location of your choice. From fixing flat tires and adjusting brakes to replacing chains and tuning gears, these technicians have the tools and knowledge to address common bike issues efficiently. Moreover, they often carry a stock of commonly used parts, so minor replacements can be done on the spot, minimizing any potential downtime for your cycling adventures.
3. Personalized Attention and Expertise:
When you take your bike to a traditional repair shop, it's often one of many bicycles awaiting attention. This means your bike may not receive immediate attention, and you may have to wait days or even weeks for repairs to be completed. With a mobile repair service, you receive one-on-one attention from a qualified technician who is solely focused on your bike. This personalized service ensures that your bike will be quickly evaluated and repaired with precision and expertise, allowing you to get back on the road in no time.
4. Cost Savings:
Mobile bicycle repair services can often offer cost savings compared to traditional shops. Without the overhead costs associated with operating a physical store, mobile repair technicians can provide competitive pricing for their services. Additionally, with their ability to come to you, you save on transportation costs and time. Small repairs that can be conducted on-site can also save you money as you won't have to pay for the labor and transportation costs involved in taking your bike to a shop.
5. Supporting Local Businesses and Cycling Community:
Mobile bicycle repair services are typically local businesses operated by passionate cyclists who are committed to serving their community. By choosing a mobile repair service over a larger chain or online retailer, you are supporting a small business and contributing to the local economy. Moreover, these technicians often have a deep understanding of the local cycling community and can provide valuable recommendations on trails, events, and bike maintenance tips, fostering a sense of connection and camaraderie among cyclists.
Conclusion:
A mobile bicycle repair shop offers numerous benefits for cyclists of all levels. The convenience, personalized attention, expertise, and cost savings make this type of service highly appealing. Not only do mobile repair technicians come to you, solving any immediate repair needs, but they also support and strengthen the local cycling community. Next time you're in need of a bike repair or tune-up, consider reaching out to a mobile bicycle repair shop, and experience the many advantages it brings to the table.
Got Questions? Let Us Help!
Welcome to Bicycle Doctor House Calls. We are proud to serve Boca Raton with top-of-the-line bicycles, scooters, and mobile repair services. We repair, sell, and rent all types of bicycles, electric scooters, wheelchairs, and electric bicycles. Bicycle Doctor House Calls offers a wide range of bicycle services including; brakes, gear adjustments, wheel alignments, safety checks, and much more. With over 30 years of experience, you can rest assured you will receive the highest level of technical skill and customer satisfaction. Call Bicycle Doctor House Calls today. We are happy to assist you! Set up an appointment today!
Categorised in: Bike Repair, Mobile Bike Repair
This post was written by admin